Flat Ads officially joins Alibaba Cloud's "Orange" Cloud Overseas Service Alliance
2023-11-02
On October 31st, the annual science and technology event Yunqi Conference was officially opened in Hangzhou Yunqi Town. This year's Yunqi Conference, with the theme of "computing, for the value of the incalculable", in addition to two heavyweight main forums, also invited more than 1,000 industry practitioners to bring more than 500 thematic sharing and interaction, through speeches, seminars and other ways to bring together experts, entrepreneurs, developers and other different groups of people to jointly discuss the hottest industry now! Convergence Topic.
"The exploration and practice of Chinese enterprises' globalization is one of the topics. 2023 Yunqi Conference Chinese enterprises' globalization special session is themed with expanding overseas and sailing in the wind, focusing on security compliance, technological innovation, marketing growth and other topics, and through speeches and round-table discussions, we will discuss the new opportunities for Chinese enterprises to go overseas to break through the new opportunities together with a large number of big names. On the scene, there are also millet group, glacier network and other benchmark enterprises sharing experience and insights.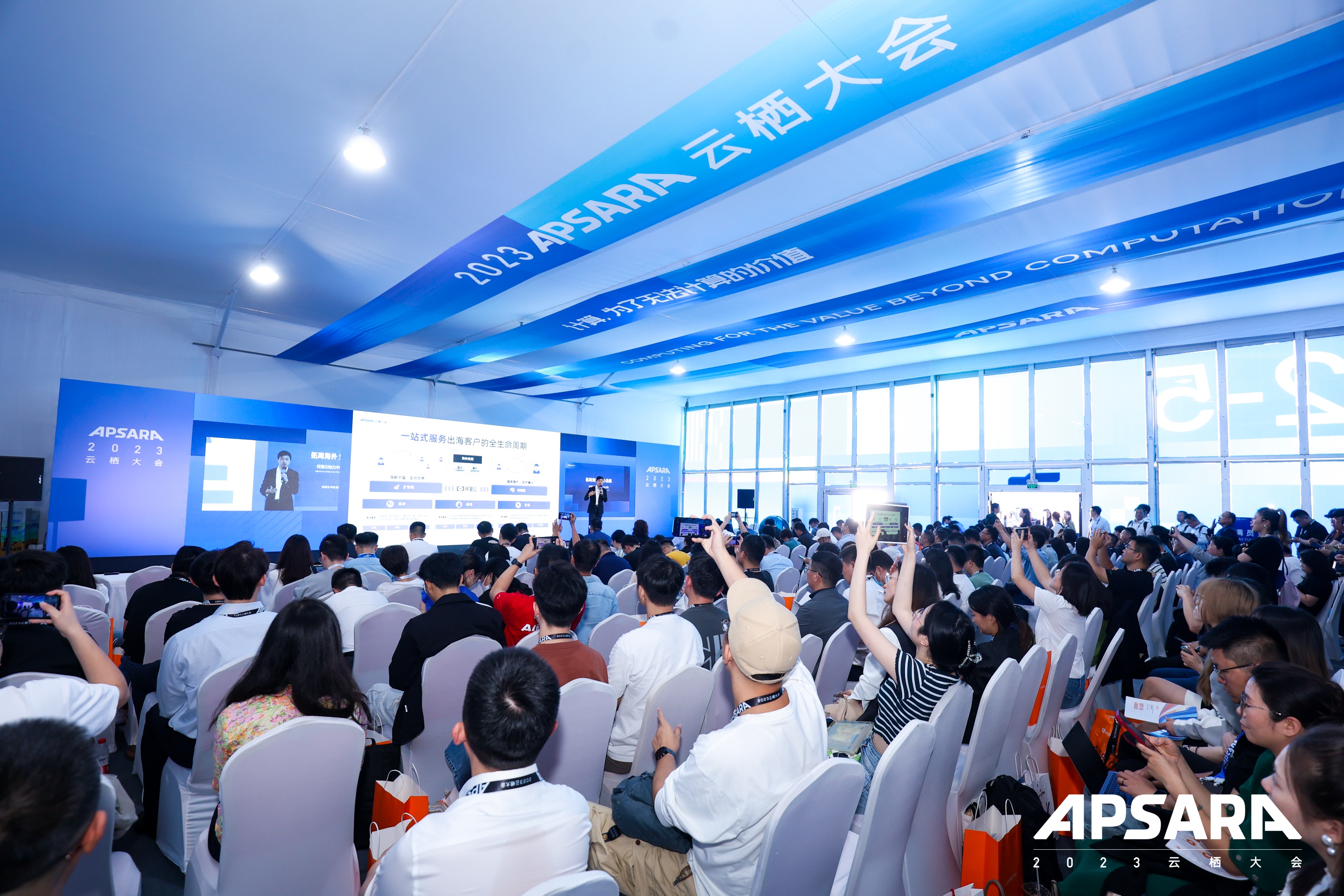 As the world's leading mobile advertising and marketing platform, Flat Ads CEO Lin Xiao was also invited to attend the special session on globalization of Chinese enterprises to share the overseas marketing services and help enterprises to acquire customers and grow.
According to Lin Xiao, Flat Ads was founded in 2019, and has passed the official certification of Open Measurement SDK of the U.S. IAB Labs, and is a mobile advertising and marketing platform with 600 million exclusive developer traffic. In addition, Flat Ads is a TOP level traffic media for non-game lists rated by Appsflyer, and has also been recognized by a number of industry media, and has been awarded the Top 10 Overseas Marketing Platform for two consecutive years from 2021 to 2022.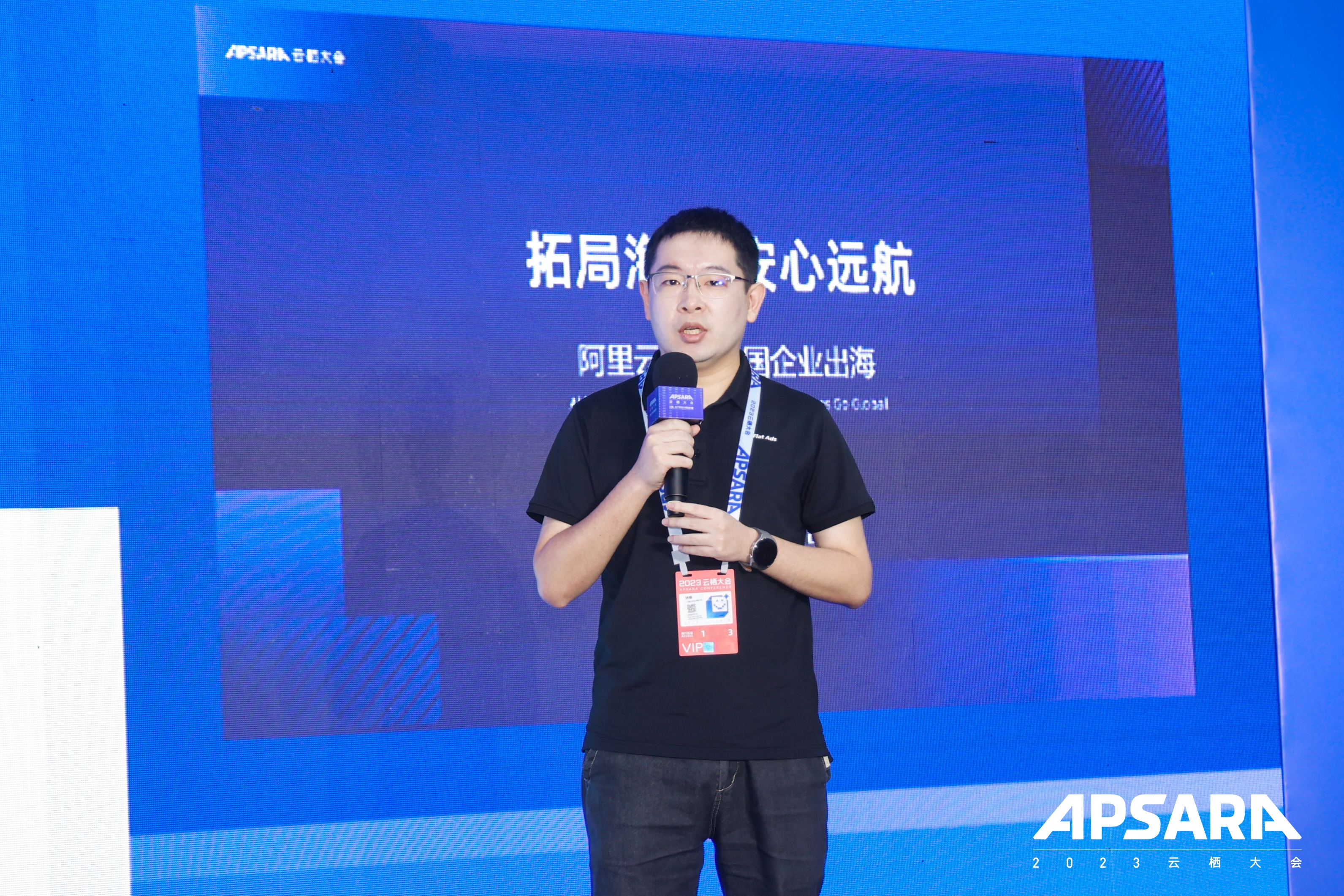 In recent years, Flat Ads, by virtue of the billion exclusive developers covering South Asia, Southeast Asia, the Middle East, Africa and Latin America and more transparent and real traffic, has continued to provide distribution and realization services for tools, video platforms, social products, games and other partners to go overseas in cooperation to help each client achieve the goal of volume and price takeoff. It is understood that Flat Ads has won rapid development and good service reputation with the advantages of flexible and diversified advertising forms, docking methods, deep cultivation of interactive advertising, and easy-to-use and efficient DSP/SSP platform. At present, the number of monthly advertisement requests of Flat Ads has reached 10,000 billion times, and the number of advertisement displays has reached 200 billion times.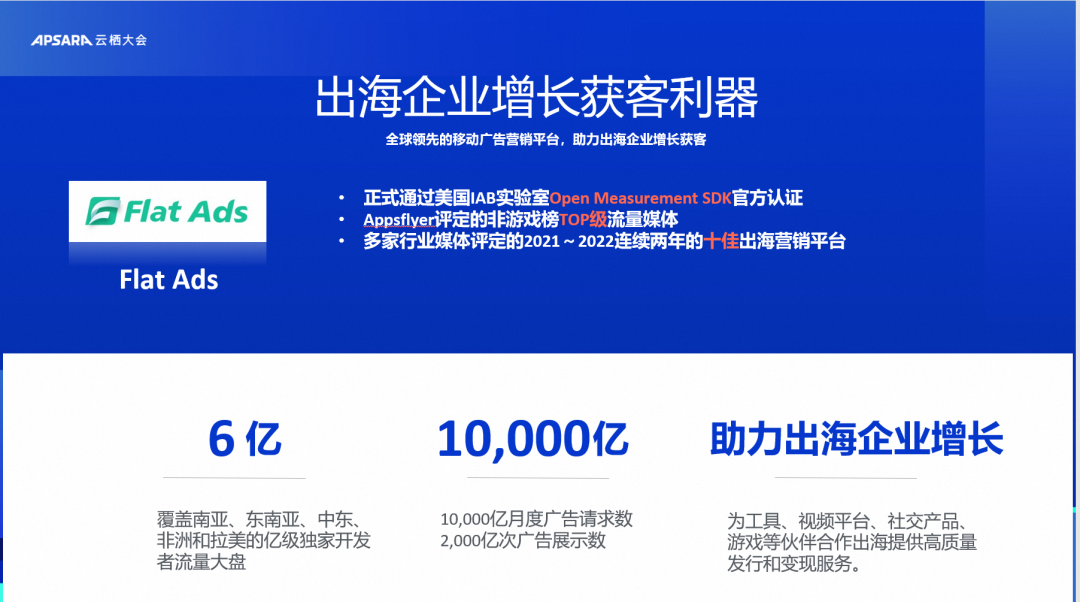 As overseas enterprises, both Alibaba Cloud and Flat Ads are continuously improving and enriching their business matrix to provide powerful assistance for the increasingly strong demand of Chinese enterprises to go overseas globally. Through the continuous improvement of digital infrastructure, Alibaba Cloud released the "Orange" Cloud Overseas Service Alliance, joining hands with eco-partners to build a one-stop product and service platform for Chinese enterprises to go overseas, providing innovative solutions for multiple core tracks such as gaming, mutual entertainment, etc., so that users can enjoy the whole chain of services to go overseas quickly.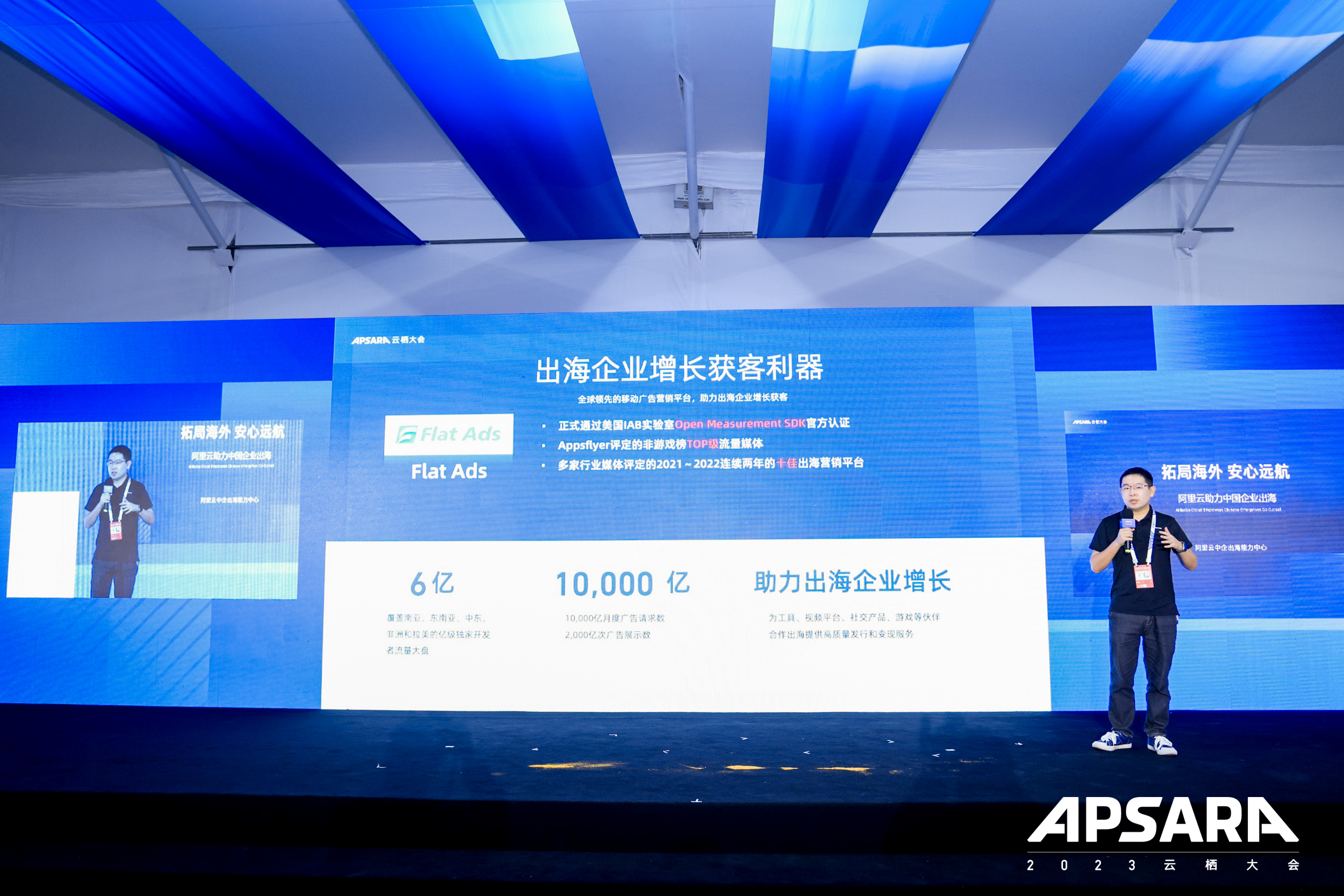 At the Summit, Flat Ads officially joined the "Orange" Cloud Overseas Service Alliance as an ISV partner to jointly build a long-term development of the overseas ecosystem. Lin Xiao said, "I'm honored to join the 'Orange' Cloud Overseas Service Alliance, in the form of consultants and Alibaba Cloud together to empower more enterprises to go to sea, and I hope to help more enterprises in the process of going to sea through the thorns and success through the advantages of market awareness, integrated marketing and traffic resources. "